Strategies to Ensure a Successful RTLS
Rollout Across your Manufacturing Facility
Using real-time location system (RTLS) technology to digitize and streamline manufacturing workflows leads to significant process improvements and increased efficiency. However, like any new technology, careful planning and a strong implementation strategy are required to ensure a smooth roll-out. At ZeroKey, we have helped hundreds of customers improve their manufacturing processes with our hyper-accurate geospatial location technology, Quantum RTLS. We know first-hand what strategies lead to a successful RTLS deployment, so we created this guide to help you avoid some of the most common pitfalls. Whether you are setting up Quantum RTLS or another indoor positioning technology at your facility, here are the steps we suggest you take to guarantee it goes smoothly. 
Step 1: Determine your projects requirements
Start by defining the scope of your project. This should include mapping out the areas in your manufacturing facility that could be significantly optimized by precise 3D location data captured in real-time. Next, set some specific objectives based on your desired outcomes. Some common goals include improving worker safety, optimizing production flow, and reducing order fulfillment time. If possible, establishing KPI's (Key Performance Indicators) from the start makes it easy to quantitatively measure the overall success of the project as it proceeds.
Once your goals are clearly defined, specific parameters that are required to meet them must be defined, such as:
What is the total area being tracked?
How many devices will need to be tracked across your entire facility? (i.e., the total number of all personnel, work orders, tools, vehicles, etc. that require active simultaneous positioning)
What is the density of devices per unit area? (i.e., if your facility is based on working cells, consider how many tracked devices will be in each cell.)
What position update rate is required? Stationary assets in a warehouse might not need frequent update rates, while a fast-moving AGV might require multiple updates per second to ensure safe navigation.
What positional accuracy is required? The answer to this usually depends on the scale and rate that events of interest occur. For example, triggering a safety zone could happen on a centimeter scale in situations involving worker hands or fingers, or on a meter scale in cases involving personnel entering dangerous rooms or off-limit areas.
Is 3D positioning accuracy important? Some technologies, such as Ultra-Wideband (UWB) offer reasonably accurate 2D positioning (typically around 20cm in ideal circumstances) on the X- and Y-axis. However, Z-axis accuracy is often up to 10x worse. This limitation is inherent to the underlying technology used in UWB systems, so considering how 3D positioning limitations could impact future scalability is imperative. To learn more about how Quantum RTLS' 1.5mm 3D accuracy directly compares to UWB, check out this article.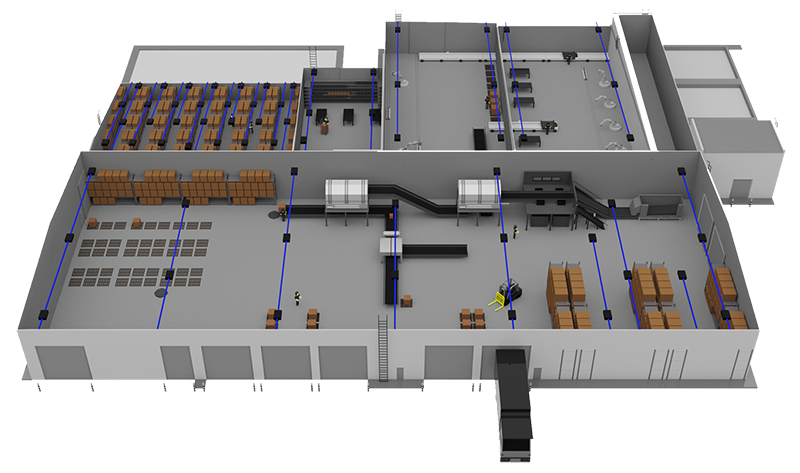 Step 2: Identify the best RTLS technology for your use case
Once you have defined your project objectives, the next step is to determine what specific RTLS technology will best meet the required parameters without compromising the future scalability of the system. There are many variables to consider when selecting a technology for your use case, each with trade-offs and limitations. For more insight into indoor positioning technologies currently on the market, review our RTLS Technology Decision Guide. 
Research different vendors that provide RTLS systems in your desired technology bracket and compare their solutions based on your project requirements. At ZeroKey, we back our core technology with enterprise-focused support throughout the project lifecycle. Evaluating vendors for price and availability is important, but ensuring they offer the support you need to leverage a new positioning technology to its full potential is paramount. 
Step 4: Develop a project plan
Once you have selected a vendor, develop a project plan that outlines your timeline, budget, and the resources required to complete the project. When deploying any new technology for the first time, it is often helpful to evaluate the system on a smaller scale before proceeding with a facility-wide rollout. With this in mind, we offer Quantum RTLS Starter Kits that include everything you need to get a precise positioning project up and running in any environment. Based on the initial results from a Starter Kit deployment, the project scope and requirements can be adjusted to better match objectives and expectations with the technology's strengths and weaknesses. Our Quantum RTLS Starter Kits are fully scalable, meaning the hardware can be reused in a large-scale deployment after the evaluation is complete.   
Step 5: Install the hardware
Set up the anchors, mobiles, gateways, and edge compute device (if included with your RTLS system). Our Quantum RTLS technology features a simple installation architecture, and our dedicated deployment team is readily available to assist with anything our customers require during installation. Once installed, the included RTLS Management Software provides users with step-by-step instructions for performing anchor calibration. Unlike other RTLS solutions that require manual surveying of the anchor positions, Quantum RTLS does not because it is self-calibrating. 
Step 6: Configure the software
Configure the RTLS platform according to your project requirements. This step could include setting up zones and geofences, defining alerts and notifications, and creating dashboards and reports. ZeroKey's Quantum RTLS technology provides users access to our Spatial Intelligence Platform, an intuitive, no-code Graphical User Interface (GUI) that enables zone creation, custom alerts, tracker assignments, dashboarding, and more.
Train your team on how to use the RTLS system and any available analytics tools. We suggest training staff on how to use the hardware, configure the software, and interpret the location data derived from the system. For Quantum RTLS customers, access to our Knowledge Base platform can be shared throughout your team to ensure relevant articles, videos, and how-to guides are available to all end users. 
Step 8: Monitor and optimize
Monitor system performance and track the KPIs established at the start of the project. As new use cases arise, try to collect comparable data to what was monitored prior to deploying the RTLS to see what improvements materialized. Analyze the spatial data collected by your system to identify areas for further improvement. Areas with poor positioning accuracy can be optimized by increasing the anchor density or reducing any sources of interference. Check the hardware periodically for early signs of damage or wear and adjust any mounts or placements accordingly. 
Step 9: Continuous improvement
Continuously improve the system by incorporating user feedback, upgrading the hardware and software, and adapting the system to changing manufacturing requirements. RTLS technologies can often be used to make improvements that were not initially considered, so we recommend you stay up to date with the latest developments in the indoor positioning space and keep an eye on emerging use cases.  
By following these steps, you will be well on your way to implementing an effective real-time location system throughout your manufacturing facility. To discuss how Quantum RTLS can improve your manufacturing processes via unprecedented operational visibility and real-time digital twinning, please fill out the contact us form below.