QTM-HMC10
WEARABLE TRACKER
Unmatched Accuracy at any Scale
INSTRINSICALLY SAFE WEARABLE TRACKER
The QTM-HMC10 is a hyper-accurate, intrinsically safe positioning device that empowers worker safety and total operational visibility. Users are alerted through vibration and an audible alarm if they enter a geofenced zone without authorization or approach another device within a configurable minimum distance. The QTM-HMC10 wearable tracker helps businesses avoid and prevent site accidents, improve compliance with safety rules and protect workers during non-routine operations.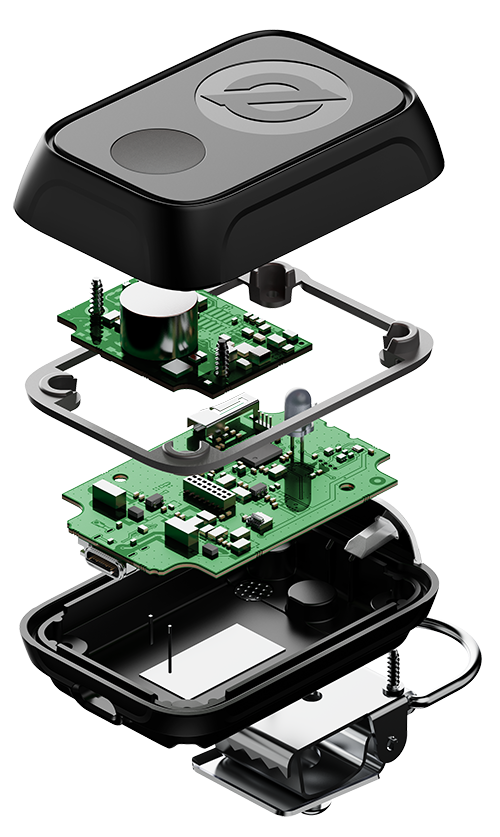 Intrinsically Safe, Waterproof and Dustproof
Certified intrinsically safe in North America with a Class I, Division 1, Groups A, B, C and D rating. Combined with an IP65 water and dust ingress rating, the QTM-HMC10 can be used in harsh industrial environments and extreme conditions.
Reliable Performance In All Environments
Unlike Radio Frequency signals, ultrasonic signals are not impacted by metallic objects typical of industrial settings. Quantum RTLS delivers continuous millimeter-level positioning accuracy in any environment.
Hyper-Accurate, Always Available Positioning
Fusing Received Signal Strength Indicator (RSSI) and Inertial Measurement Unit (IMU) technology ensures positioning is always available at 20 Hz rates. Automated calibration allows network localization to be completed quickly and easily with no need for manual surveying.
Vibration and Audible Alarms
Reliable, real-time detection of unsafe situations is essential for preventing injury in dynamic industrial environments. The QTM-HMC10 mobile node is equipped with a configurable audible alarm, vibration motor, and LED alert light to signal when unsafe events are detected and when static or dynamic geofenced zones are breached. 
Total Operational Visibility
ZeroKey technology provides the highest level of operational visibility by harnessing millimeter-accurate positioning data to digitally twin operations in real-time. With complete, facility-wide visibility, businesses can manage and visualize their global operations, digitize and automate processes, identify man-down scenarios, and guide operators with unmatched precision.
Actionable Insights in Real-Time
Quantum RTLS data is transformed into actionable insight using ZeroKey's Spatial Intelligence Platform. Captured or real-time data can be monitored, visualized, and analyzed, resulting in true business intelligence. A modular plug-in interface allows an a la carte approach to targeting specific use cases, integration platforms, and data flows.
ACTIONABLE INSIGHT INTO FACILITY-WIDE OPERATIONS
Empower frontline worker safety with Quantum RTLS, the world's most accurate real-time location system (RTLS) technology. Reliable, real-time detection of unsafe situations is essential for preventing injury in dynamic industrial environments, and that is where Quantum RTLS excels. The technology ensures frontline worker safety by giving businesses the ability to:
Trigger instant alerts when equipment unexpectedly leaves work area boundaries.
Improve floor operations, safety, and compliance with hyper-accurate 3D location data.
Avoid and prevent site accidents before they happen.
Empower operators to make safe decisions with real-time insight into staff whereabouts.
Perform millimeter accurate, real-time collision detection and avoidance with cranes, forklifts, and personnel.
Locate staff and critical assets with industry-leading precision.