ZeroKey Shows Off 2nd Generation Technology in Las Vegas
---
In early January, ZeroKey had the pleasure of exhibiting at the Consumer Electronics Show (CES). Billed as the most influential technology event of the year, CES brings the industry together to experience the next generation of innovation in Las Vegas, Nevada. With over 2,300 companies set to exhibit at this year's in-person event, we knew we could not miss the opportunity to show off our second-generation technology, Quantum RTLS. After countless hours of planning, we packed our bags and flew to Vegas for what turned out to be a wildly successful event for ZeroKey! Watch the highlight reel above for a short recap of our time at CES 2022.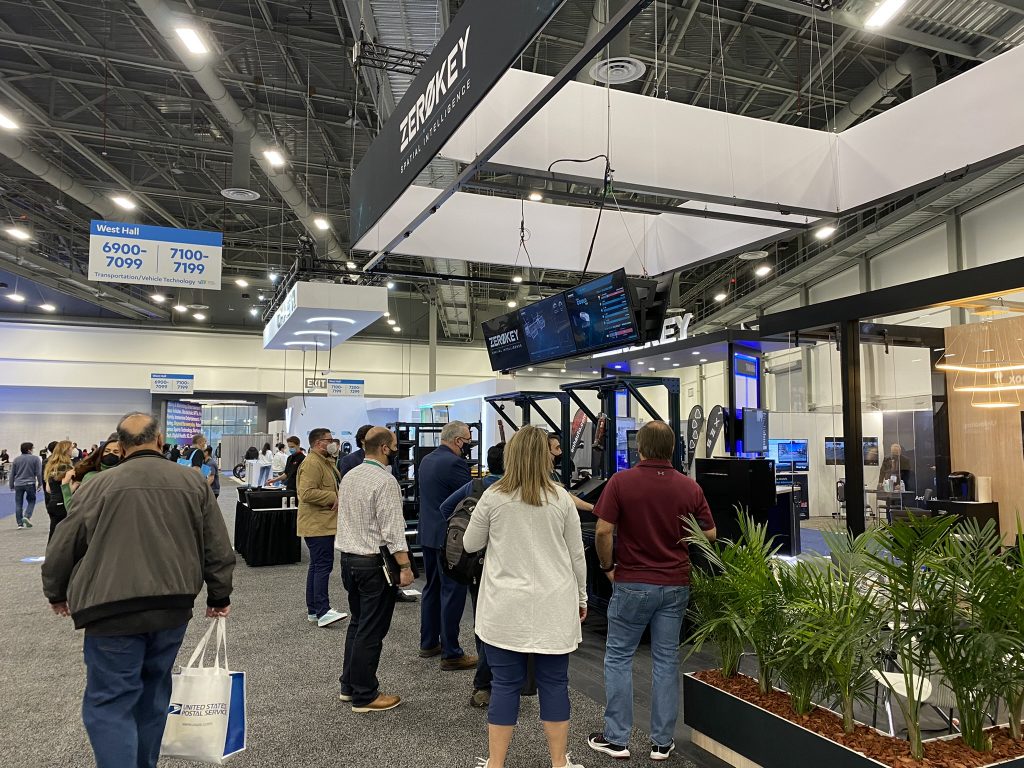 When we decided to exhibit at CES, we knew that simply having a presence at the conference would not be enough to draw attendees to our booth. We had to figure out a way to show conference-goers how Quantum RTLS, the world's most accurate real-time location system (RTLS), could transform their businesses. Several brainstorming sessions later, the concept for our live digital twin demonstration materialized. We worked around the clock to ensure that the demo could accurately represent how our technology enables just-in-time manufacturing (one of its many use cases), and our hard work paid off! Throughout the conference, crowds of curious people gathered at the ZeroKey booth to see Quantum RTLS in action. Attendees were blown away by the technology's ability to digitize manual kitting, assembly, and supply chain processes in real-time with 1.5mm 3D accuracy. They even had some use case ideas of their own! Check out the video below for a closer look at our interactive kitting and assembly demo.
If you missed us at CES 2022, we'll be back! In the meantime, feel free to contact us any time and keep an eye out for ZeroKey's participation in upcoming trade shows including Mobile World Congress (MWC) and Hannover Messe. To book an on-site or virtual meeting with our team at MWC 2022, click the button below.
About Quantum RTLS
ZeroKey Technology offers a new way for manufacturing, oil and gas, automotive, supply chain and logistics, health and safety, and construction industries to move their businesses beyond the confines of manual processes to the continuous optimization of entire operations. Quantum RTLS enables millimetre-accurate 3D digitization of any asset to power real-time quality control of physical processes, task monitoring for just-in-time process control, ultra-high-fidelity digital twinning, machine navigation for dynamic industrial automation, and more. Through the digitization of both time and location, our technology offers a level of accuracy and high-powered analytics to give customers 4D operational intelligence that truly delivers on the promise of Industry 4.0.