Millimeter-Accurate
Quantum RTLS Technology
Models Human-Centric Workflows
Although indoor positioning technology is widely employed in a range of well-established digital transformation use cases, ZeroKey's real-time location system (RTLS) technology, Quantum RTLS, is the first commercially available system capable of achieving 1.5-millimeter 3D positioning accuracy on a large scale. ZeroKey technology is over 100x more accurate than leading indoor positioning systems, such as Ultra-Wide Band (UWB) and Bluetooth (BLE). This increase in performance is not just an incremental improvement on traditional localization technologies, but it also unlocks entirely new use cases that were impossible in the past.
As more and more businesses worldwide digitally transform processes and automate workflows, the need for human workers has decreased in many industries. However, many tasks still require human operators, and this is not likely to change in the near future. These tasks are typically complex and require a high level of dexterity and adaptability, which is why they could not be efficiently automated in the past. Unfortunately, these characteristics make human-centric workflows difficult to track and monitor, leaving significant gaps in process-wide optimization and adding roadblocks to the goal of complete digital transformation.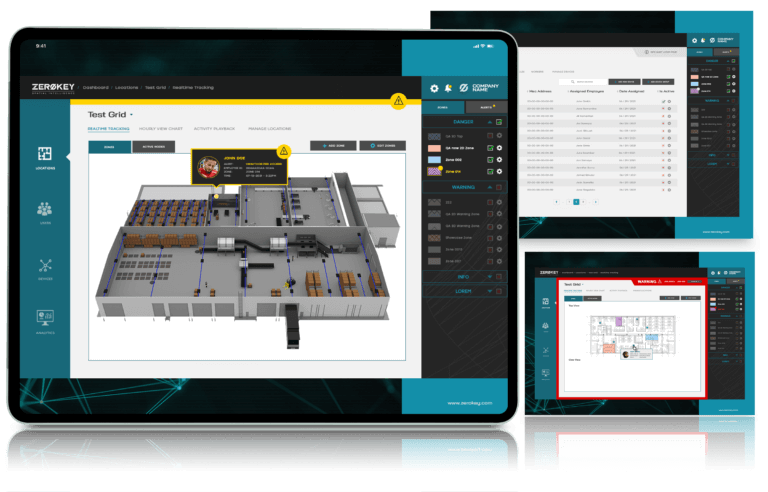 With Quantum RTLS, digitizing dynamic physical processes is no longer a problem. The unprecedented accuracy that this RTLS technology brings to industrial environments allows businesses to effectively model and monitor tasks and activities performed by human workers in real-time and in 3D using spatial data alone. By tracking hand movements, tool locations, and material flow in real-time, hyper-accurate position data can be used to correctly identify when each step in a workflow is completed and verify that it was completed correctly. Historically, the digitization of complex human-centric processes has been challenging due to the technical limitations of earlier technologies. Because events such as kitting orders, sequencing bolts, and assembling parts take place on the scale of centimeters, other RTLS' are simply not accurate enough to differentiate individual steps in a process. ZeroKey technology enables businesses to digitally twin complex processes and environments, from a single work cell to an entire factory floor with 1.5mm 3D accuracy, filling in gaps that result from the technical limitations of traditional IIoT (Industrial Internet of Things) technologies.
Tulip Interfaces:
Digital Transformation Democratized
Tulip's Frontline Operations Platform offers an unrivalled solution for digital transformation through a robust no-code app and analytics engine that seamlessly connects resources across entire organizations. With a massive library of prebuilt integrations and workflows, processes are easily managed and visualized by connecting machines, sensors, personnel, and systems, empowering businesses to future-proof their operations while increasing their overall efficiency today.
Tulip's commitment to empowering the frontline worker with better technology and ZeroKey's ability to precisely monitor human-centric workflows in real-time creates the ideal marriage of systems that fully deliver on the promise of Industry 4.0. This powerful combination enables seamless process control, complete automation, and the highest level of operational visibility by harnessing millimeter-accurate positioning data to digitally twin your operations and drive Tulip app logic in real-time. The hyper-accurate spatial data captured by Quantum RTLS is made instantly actionable within Tulip's Frontline Operations Platform, where users can create no-code apps to trigger events, monitor activities, and enhance overall process visibility for more informed decision-making.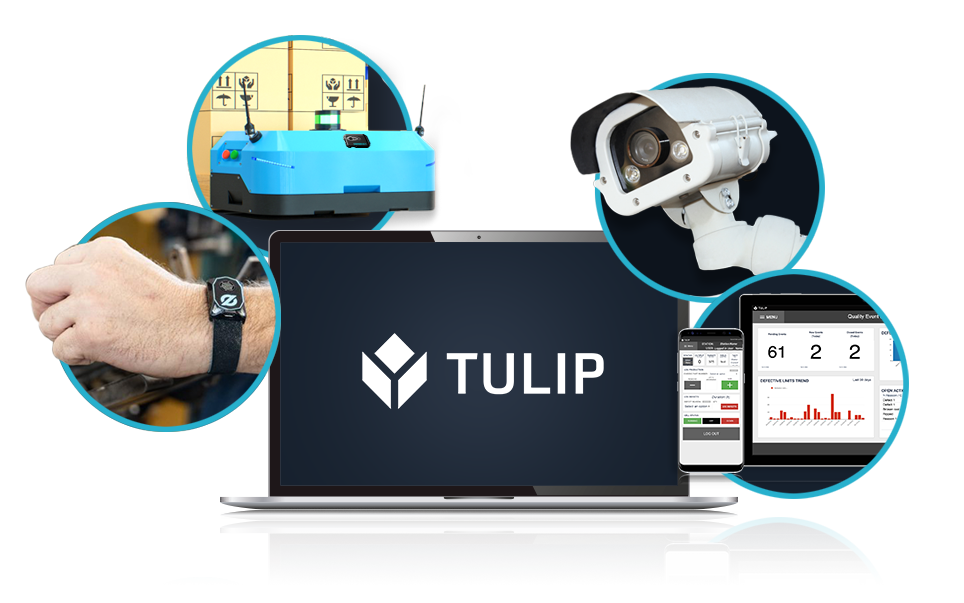 ZeroKey & Tulip Integration
in Action at the Tulip Experience Center
Located in a former Ford plant in the heart of Boston's historic manufacturing district, the Tulip Experience Center is both an open showcase of Tulip's offerings and a live lab environment to sandbox the future of Industry 4.0. Therefore, it was a no-brainer to use this space to build out the foundations of the ZeroKey and Tulip integration and in turn, highlight the resulting capabilities made possible by combining human-centric process modelling with the world's leading digital transformation tool.
The flexibility of the Tulip platform makes it easy to quickly customize a wide range of Quantum RTLS use cases at the Tulip Experience Center. Join Kyle Oberholtzer, Program Manager, for a short demonstration of the system in action.
Workorder Photo Verification
Using Quantum RTLS mobile nodes mounted to bins, the Tulip platform can automatically detect when an order arrives or departs a workbench. When the arrival of an order is detected, Tulip's technology triggers a camera on the workbench to take a photo verifying the order status and documenting order progression through a step-by-step assembly process at the Tulip Experience Center. Similarly, if a workstation requires restocking, the known location of the restocking cart is used to track the material flow of individual parts as they are picked up and distributed to workstations.
Bolt Sequencing with Smart Tool Integration
Tulip's integration with a wide range of smart tools enables ZeroKey's spatial data to be easily incorporated into quality control and utilization analytics involving manual processes. In an assembly demo using a Kolver smart screwdriver, onscreen digital work instructions guide a user through a bolt sequence. By tracking the position of the user's hands, the system can determine in real-time if the bolt sequencing is completed correctly, a use case that cannot be tackled with technologies like UWB or BLE due to their significantly lower positioning accuracy. As the bolts are fastened, the known location of the screwdriver enables the association of torque and angle with individual fasteners on the part, automatically creating a highly detailed digital certificate of quality assurance without any input from the user during the entire process.
Just-In-Time Process Control
Combining ZeroKey's hyper-accurate positioning capabilities with the vast library of prebuilt integrations supported by Tulip enables the complete automation of human and machine interfaces in real-time. At the Tulip Experience Center, this just-in-time process control is used to load digital work instructions and move items between stations on a conveyer to demonstrate how Quantum RTLS can improve worker safety, decrease cycle times, and improve asset utilization in any process involving human and machine collaboration.
Automated Geofencing and Alerts
Knowing the real-time location of assets and workorders improves security and safety in any facility. As an example of how indoor positioning eliminates lost and misplaced orders, virtual geofencing at the Tulip Experience Center is used to automatically detect any workorder that strays from the active demo area. Alerts are automated, immediately sending an Out-Of-Bounds notification with a timestamp, area name, and security photo every time an order leaves the geofenced zone.
Get Started With
ZeroKey x Tulip
For more information about getting started with an indoor positioning technology and/or the ZeroKey x Tulip integration, check out the following resources for further details on selecting an appropriate solution and some considerations for a successful deployment:

To learn more about how ZeroKey and Tulip are together delivering on the promise of industry 4.0, visit our Tulip Partner Page or use the button below to book a demo. Learn more about Tulip, and browse existing integrations, workflows and compatible hardware on their website.